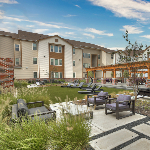 ACC - PVAMU Partnership
October 12, 2021 -- AUSTIN, Texas. Long-term partners Prairie View A&M University (PVAMU) and American Campus Communities (ACC: NYSE) celebrate their 25-year partnership with the establishment of two academic scholarship programs and a new endowment.
The investment will support and highlight the academic nature of ACC's mission and existence. Over the next five years, ACC will support PVAMU students with a total contribution of $225,000 to be distributed as follows:
An annual $15,000 American Campus Communities "Next Step" Scholarship supporting students with great financial need

Two annual $5,000 "Success by Design" scholarships, awarded to two students majoring in mission-related fields, such as architecture and design; An added goal is to encourage equity and diversity in career paths that can directly impact the student housing sector.

An annual $20,000 investment in the American Campus Communities Endowed Scholarship Fund to aid the general support needs of full-time undergraduate students
"The endowment, as well as awarding scholarships to students who will represent the next generation of diverse thinkers, is such a meaningful way to acknowledge and commemorate our longstanding partnership with ACC," said Prairie View A&M University president, Ruth J. Simmons. "We appreciate ACC's unwavering commitment to PVAMU."
All of the initial scholarships were recently awarded to PVAMU students for the 2021-22 school year. The "Next Step" scholarship was awarded to a total of fifteen students in $1,000 increments. The inaugural "Success by Design" scholarships were granted to PVAMU upperclassman, Shantel Hood and William A. Spriggins, V (both pictured above). Both are juniors in the School of Architecture.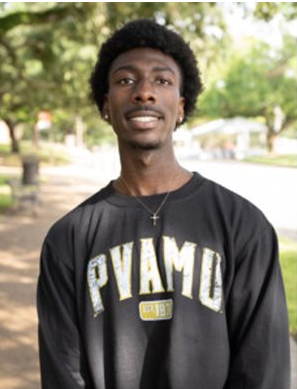 Shantel Hood William A. Spriggins V
"I'm extremely humbled and honored to receive this scholarship; the timing of the blessing was perfect. I plan on using my funds towards my tuition balance and a self-built desktop to perform software AutoCAD, Revit and Photoshop to name a few. I would like to say thank you to ACC for the scholarship opportunity and PVAMU for making my transfer experience great," shared Spriggins.
In 1996, PVAMU and ACC began a shared mission to create an academically-focused living and learning environment. Since then, the partnership has delivered more than $137 million in student communities and nine phases of modern academically-oriented housing, serving nearly 5,000 students with on-campus housing accommodations.
"We will forever be grateful to PVAMU as our first university client for believing in us since our founding days -- this is our way of saying thank you while helping to invest in the future leaders of our industry," said Bill Bayless, chief executive officer at ACC.
In addition to ACC's grant establishments with PVAMU, the partnership will continue to grow via a series of expanded student housing models. The most recently completed project, University View, features a "program house" concept, in which students of shared academic pursuits reside together. The ideal is designed to encourage peer development and mentorship – ultimately propelling residents from university life as engaged scholars to successful professionals. Program House members will have a range of aptly-designed ways to work together to address global issues and challenges in a setting that is unique and well poised for students. The student housing complex, the latest project of the ACC-PVAMU partnership, hosts 540 students.
About American Campus Communities
American Campus Communities, Inc. is the largest owner, manager and developer of high-quality student housing communities in the United States. The company is a fully integrated, self-managed and self-administered equity real estate investment trust (REIT) with expertise in the design, finance, development, construction management and operational management of student housing properties. As of June 30, 2021, ACC owned 166 student housing properties containing approximately 111,900 beds. Including its owned and third-party managed properties, ACC's total managed portfolio consisted of 205 properties with approximately 141,300 beds. Visit
www.americancampus.com
.
About Prairie View A&M University
Prairie View A&M University is the second-oldest public institution of higher education in the state of Texas and supports an annual enrollment of approximately 9,000 students. With an established reputation for producing engineers, nurses, and educators, PVAMU offers baccalaureate degrees, master's degrees, and doctoral degree programs through eight colleges and schools. For more information regarding PVAMU, visit
www.pvamu.edu
.
Become part of the American Campus team!
For more opportunities to work at ACC or one of our properties, please visit our Careers page. We're committed to creating rewarding careers for our team members from day one.
View All Available Opportunities